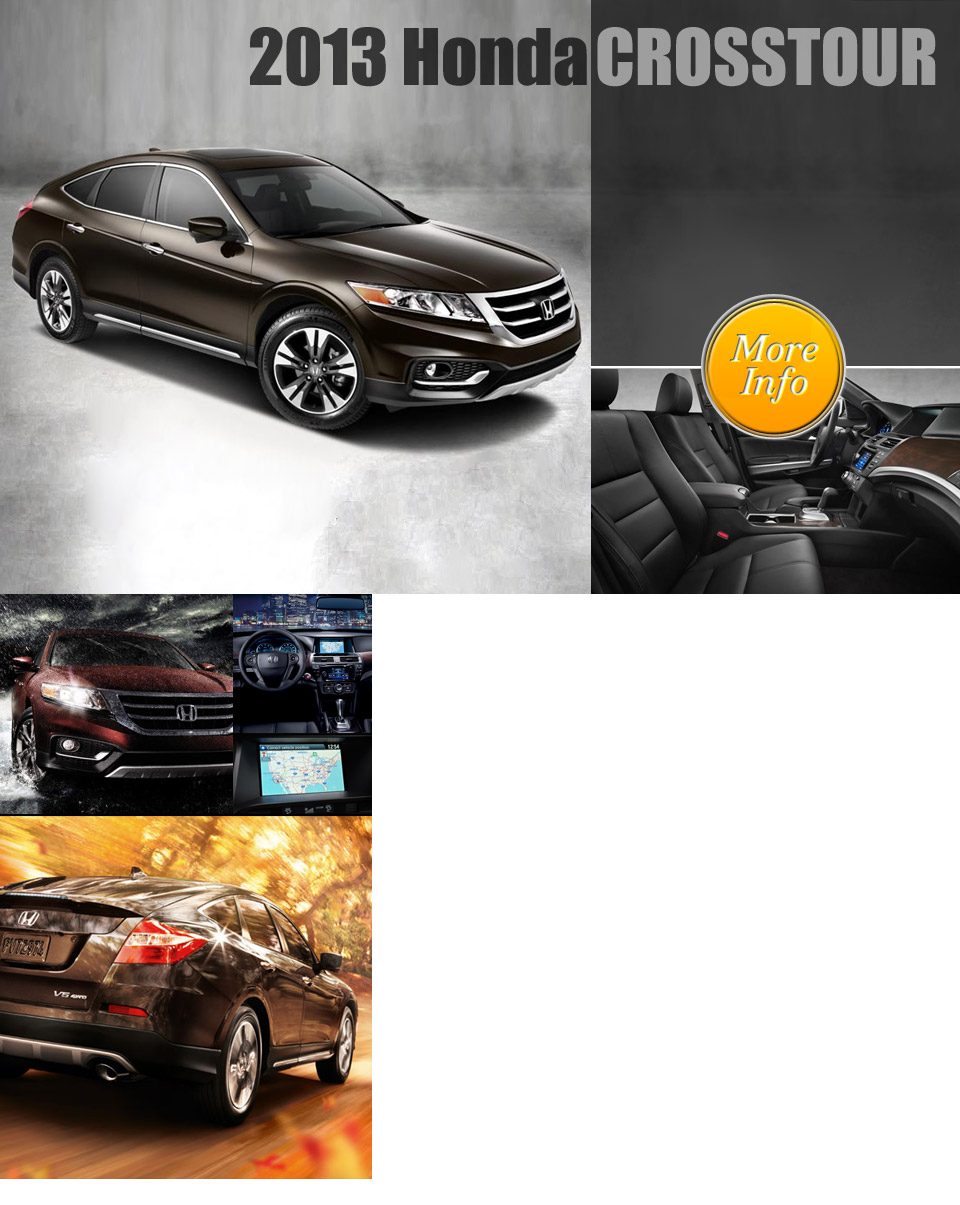 2013 Honda Crosstour in San Antonio
Fresh off the line comes the 2013 Honda Crosstour in San Antonio, TX. The Crosstour is the perfect vehicle for a large range of consumers due to its versatility. With a new look for 2013, the Honda Crosstour has a lot going for it this year. With performance, efficiency, cargo room and much more among its attributes, the Crosstour is expected to be a big hit this year. Be among the first to get your hands on the 2013 Honda Crosstour at Benson Honda.
Top-Notch Style and Performance
The first thing you might notice about the 2013 Honda Crosstour in San Antonio is the unique styling it offers. But under all that style is a vehicle that can really move. The 2.4-liter four-cylinder engine has an amazing output of 192 horsepower – a number that puts it among the most powerful four-cylinders. There is also a 3.5-liter six-cylinder engine available that increases the output to 278 horsepower. The V6 engine is mated to a six-speed automatic transmission that allows the car to combine performance with efficiency.
Luxurious and Convenient Inside
Not only does the outer styling on the 2013 Honda Crosstour in San Antonio impress, but the interior does as well. With high quality components throughout, the car feels like a luxury vehicle without the luxury price. While that part fits the passengers well, the Crosstour doesn't skimp on the cargo space either. The 60/40 split rear seatback allows for a full rear space that features all the storage that consumers need. With the rear seats folded down, the Crosstour features 51.3 cubic feet of cargo space. Even without the seats folded, the sloping rear tailgate allows for 25.7 cubic feet of space. As you can see, the Crosstour is one versatile ride.
Have it All in One Package
With the full combination of features, the 2013 Honda Crosstour in San Antonio fills a major void in the market. And consumers needing to fill that void will be flocking to the Crosstour as their vehicle of choice. Fill out the form above and we will be in contact with you regarding the 2013 Honda Crosstour. The professionals at Benson Honda will be happy to help you with everything you need.