2014 Honda Crosstour
2014 Subaru Forester
31 MPG
Highway Fuel Economy
29 MPG
192
Horsepower (4-Cylinder)
170
51.3 ft3
Maximum Cargo Volume
74.7 ft3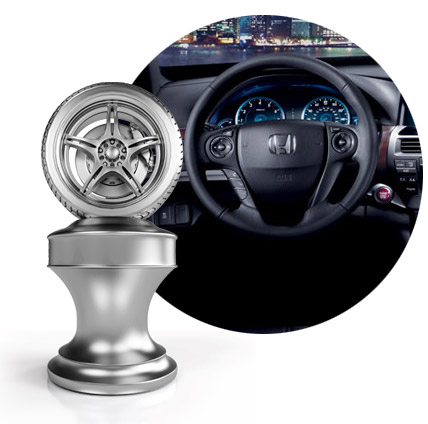 2014 Honda Crosstour vs 2014 Subaru Forester
Take a look at the 2014 Honda Crosstour vs 2014 Subaru Forester and one thing becomes very clear. Not only is the Crosstour one of the most unique crossover SUVs available, but it's superior to the comparable Forester.

With available four wheel drive and a ground clearance that's higher than average, both vehicles are capable of handling some rough off-road terrain, but when they're back on the road, the Crosstour has the advantage. The Crosstour does come with a slight size and weight increase, but it's still able to pull off a higher fuel economy. The Forester does have the advantage in maximum storage capacity, but storage options in the Crosstour are more versatile. Also, the maximum cargo volume of the Crosstour doesn't factor in the hidden, removable utility box located behind the fold-down 60/40 split rear seatback. The options are endless in the 2014 Honda Crosstour.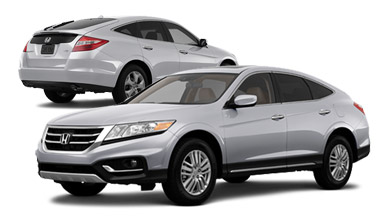 V-6 Power Lies Under the Hood of the Honda Crosstour
One of the biggest differences between these two crossovers is that only the Crosstour offers the option of a V-6 engine. Although the 4-cylinder engine has an output that surpasses that of the Forester, the 3.5-liter i-VTEC engine smashes the Forester by more than 100 with an output of 278 horsepower. There is a drop in the fuel economy, but not by much. The extra power gives the V-6 Crosstour a fuel economy of 28 MPG highway. That is the same fuel economy produced from the turbocharged engine option in the Forester, but at a maximum 250 horsepower, the turbocharged 4-cylinder still falls short of the Crosstour's V-6.

When they're on the road, crossover SUVs tend to blend together. Though they offer different options under the roof and hood, the body styles are virtually identical. If you want to stand out, you're guaranteed to turn heads behind the wheel of the Honda Crosstour.

To find out more about the most distinctive, unique crossover available, get a hold of the experts at Benson Honda in San Antonio, TX, and get into the 2014 Honda Crosstour today.
** Based on 2013 EPA mileage estimates. Use for comparison purposes only. Your actual mileage will vary depending on how you drive and maintain your vehicle.